Dynamite Crape myrtle (Lagerstroemia indica 'Whit II')
Crapemyrtle* is a multi trunked, deciduous tree that is native to China, Japan, Korea and South Asia. It is grown both for its long blooming season as well as its smooth, greyish bark that it sheds each year.
The leaves of the crapemyrtle are small and oval shaped. They are probably most remarkable when they turn color in the fall. Crapemyrtle commonly grows to around twenty feet tall and has a columnar or vase like aspect. It tolerates a variety of soils, including clay and loves the heat.
The flowers of the crapemyrtle include a range of shades of white, pink, purple and red. Of many of the new varieties it is said that the color of the flowers deepens each year. I like the color of Dynamite so far but I hope this is true. I thought it would be a deeper red.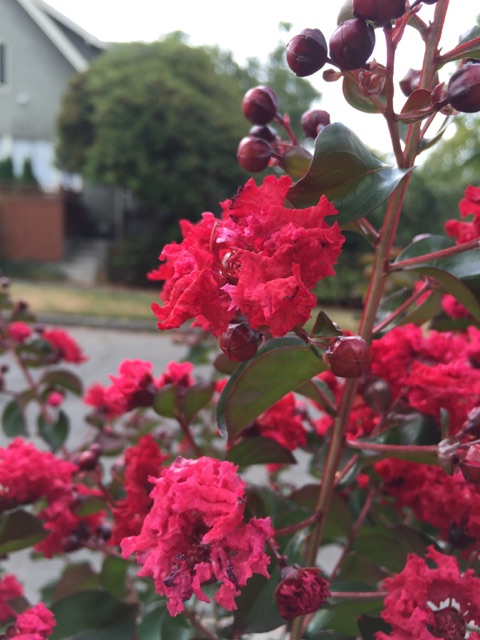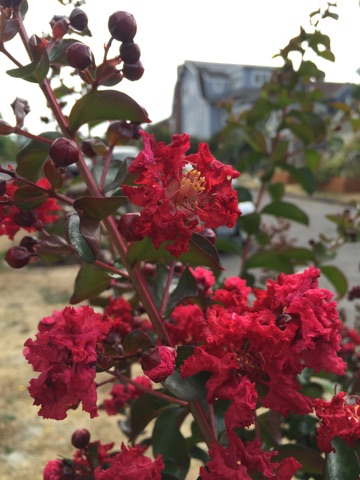 In February of this year I planted three crapemyrtle trees. I chose the Dynamite because of it's red flowers, cold tolerance and disease resistance. The reason I chose crapemyrtle in the first place is that the trees were to be planted on the parking strip. I wanted the trees to be proportionate, not too messy and somewhat columnar or vase shaped. The size of the mature crapemyrtle is perfectly suited for it to retain its natural habit and height in this small area which is 6 feet wide.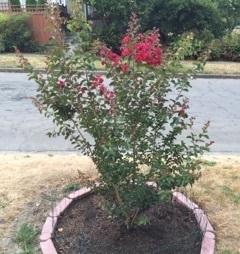 There will be very little pruning, yet they will never interfere with entering or exiting our parked cars. Crapemyrtle is not a messy tree even when the leaves drop as it goes dormant. It doesn't have any sticky sap or fruit to clean up or track into your car and house.
Planting these three trees is just step one in a whole plan for improving the parking strip and getting rid of the lawn. Next up: paver paths to cross from car to sidewalk.
*In doing the research for this post I learned that the proper name of Lagerstroemia indica is crapemyrtle, not crape myrtle. If you are interested in the name and how the newest varieties of crapemyrtle were bred click here.