Sautéed Winter Greens with Spicy Italian Sausage and Farfalle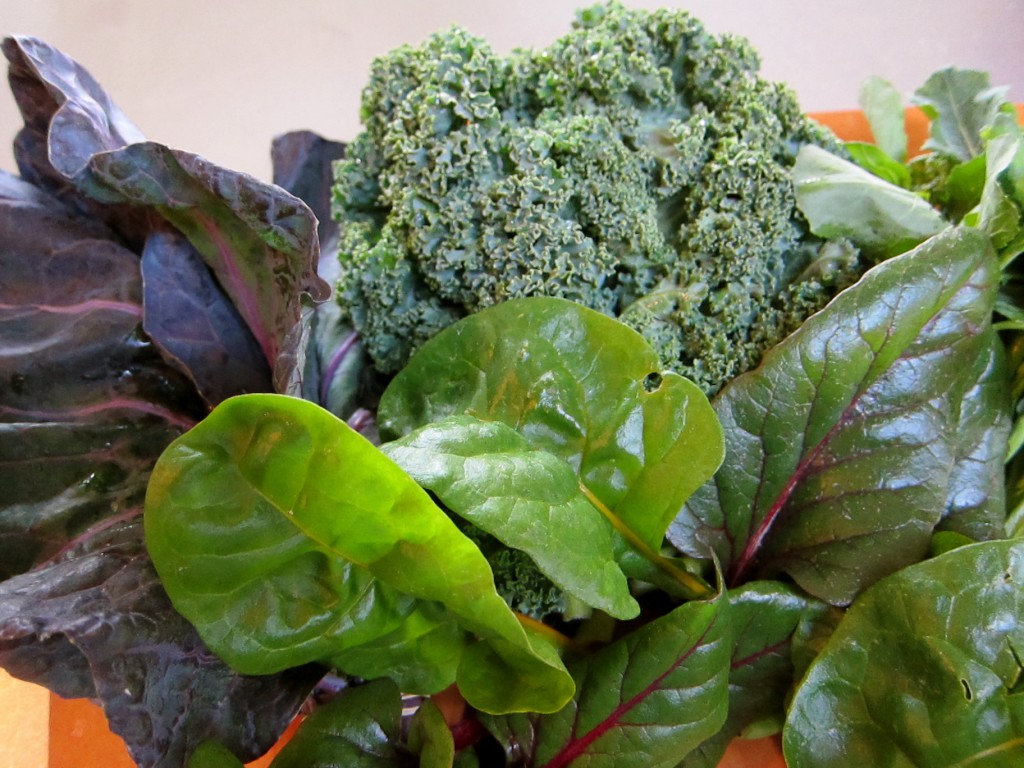 Sautéed Winter Greens with Spicy Italian Sausage and Farfalle
Serves 4
This is the third recipe in the Delicious Winter Greens series
Italian cooks have combined winter greens with sausage and pasta for generations; this recipe shows why. Vibrant colors (note the bright red pieces of beet stems), flavorful greens, spicy sausage and aged Parmesan tossed with silken pasta confirm the adage that perfect ingredients carefully prepared are the essence of fine food.
Wait until you taste the simple sauce made with the sausage drippings, garlic and a little of the pasta water.
Hints
I keep Italian sausage links (Isernio's Mild and Hot) in the freezer. If I want it in small pieces, I just slit the casings and break the meat up with a fork.
Chili pepper in the sausage sets its flavor apart from those of the greens. If you use mild Italian sausage, add a few dehydrated red pepper flakes or 1/4 tsp. Chinese Chili paste to the sausage.
Note: for this recipe, instead of sautéing the garlic with the greens, cook it with the sausage so its flavor will permeate the sauce.
I chose Farfalle because the bow shape holds sauce and small pieces of sausage. Penne, Rigatoni, Strozzapreti, Orecchietta or other folded, cupped and cylinder shapes will work.
Ingredients
Sautéed Mixed Winter Greens, prepared and held off heat
1# Farfalle pasta
2 tbs. Extra virgin olive oil
1# Hot Italian sausage (4 links Isernio, casing removed and discarded)
4 Large cloves fresh garlic, peeled and chopped
1 cup coarsely grated, Aged Parmesan Cheese at room temperature
Procedure
Put water into a large pot and bring to a hard boil. Add pasta and stir for a about a minute to stimulate the release of its starch.
While the pasta is cooking, heat oil on medium heat in a skillet large enough to hold the cooked pasta and sausage. Add sausage and break it into small pieces as it cooks. When it's almost done, sprinkle the garlic over the meat and move it around so the garlic won't burn. When the sausage is cooked, add a cup of the pasta water, scraping the drippings from the bottom of the pan into the water. Turn the heat down to a low simmer.
Reheat the greens quickly over high heat, tossing them with tongs so they won't stick.
When the pasta is done, ladle some of the water into 4 pasta plates to warm them, drain the pasta in a colander and then transfer it to the skillet and toss it with the sausage. If there isn't enough sauce for about 1/3 cup per serving, use water from the pasta plates.
To Serve: empty the water out of the pasta plates, and divide the pasta and sausage mixture among the plates. Add greens to each serving and toss gently, mixing the pasta and greens. Divide grated cheese among the plates and serve immediately.