Rooster Traits and Self Penalty

The Rooster is one of three animal signs in the Chinese Zodiac that consist of a single element. The other two are Rat (yin water) and Rabbit (yin wood). The energy of the Rooster is pure metal, mostly yin. Being yin indicates a feminine quality, but most of our perceptions about Roosters have to do with an energy we would characterize as masculine. Maybe time to rethink that. Naturally, the more extreme (i.e. unbalanced) cases stand out.
General Traits of Metal – Balanced and Imbalanced

Common expressions or sayings about roosters and what they mean: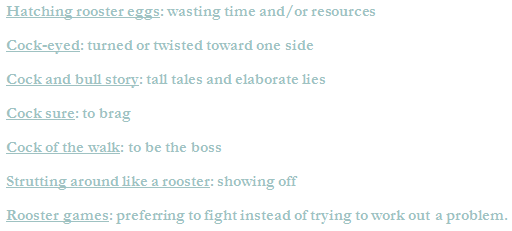 Foghorn Leghorn, a famous Looney Tunes and Merrie Melodies rooster, seems to embody the idea of roosters as too loud and self important, making a racket and attracting attention to themselves. Attention that they expect you to pay.
Foghorn Leghorn: "Now let me know when I come to something that interests you." He says this because he is going to keep talking until that happens.
[embedyt] http://www.youtube.com/watch?v=-LCsiWL6gn0[/embedyt]
Then again, who wouldn't be "cocky" walking around with all that plumage, a really loud voice, not to mention some nice sharp talons?
The rooster is one of the zodiac animals that carries with it the dreaded "self penalty". This occurs when the rooster encounters another rooster, either in the natal chart or through timing. A rooster self penalty might closely resemble Foghorn Leghorn's behavior in general, but in real life a self penalty is relative to your day master. If you have a rooster in your chart, you have probably experienced the self penalty before. Depending on your day master the rooster self penalty may show up in one of these five ways:
Metal day master: Relationships. Fighting with coworkers, friends, peers, siblings
Water day master: Resources. Problems with food, drink, health.
Wood day master: Power and control. Possibly a lack of self control or over controlling others. Or both.
Fire day master: Money. Bad decisions or reckless risk taking about money.
Earth day master: Output. Cockiness in speech, trash talking, too-sharp criticism.
Do you have a rooster in your chart?*
Rooster Years: 1921, 1933, 1945, 1957, 1969, 1981, 1993, 2005, 2017
Rooster Month: September
Rooster Day: Depends on year and month
Rooster Hour: 5-7 pm (17:00-19:00)
I'll end this post with the chart of well known chef and restaurateur Michael Symon who has at least 3 roosters in his natal chart. I say at least because I don't know what time he was born. His chart is a special case where it looks like the roosters (his wealth) take over the chart. Clearly that's working out well for him!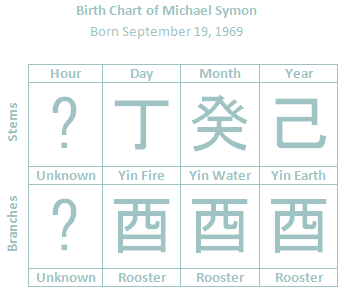 More about that later…
One last thing: I hope you've noticed how throughout this post I've talked about rooster qualities and energy, rather than rooster people. There is no intention to criticize anyone here.
*Warning: Chinese calendar dates do not match up with the Gregorian calendar. Please use a calculator or contact me at stephanie@freshxnw.com for help with your chart.