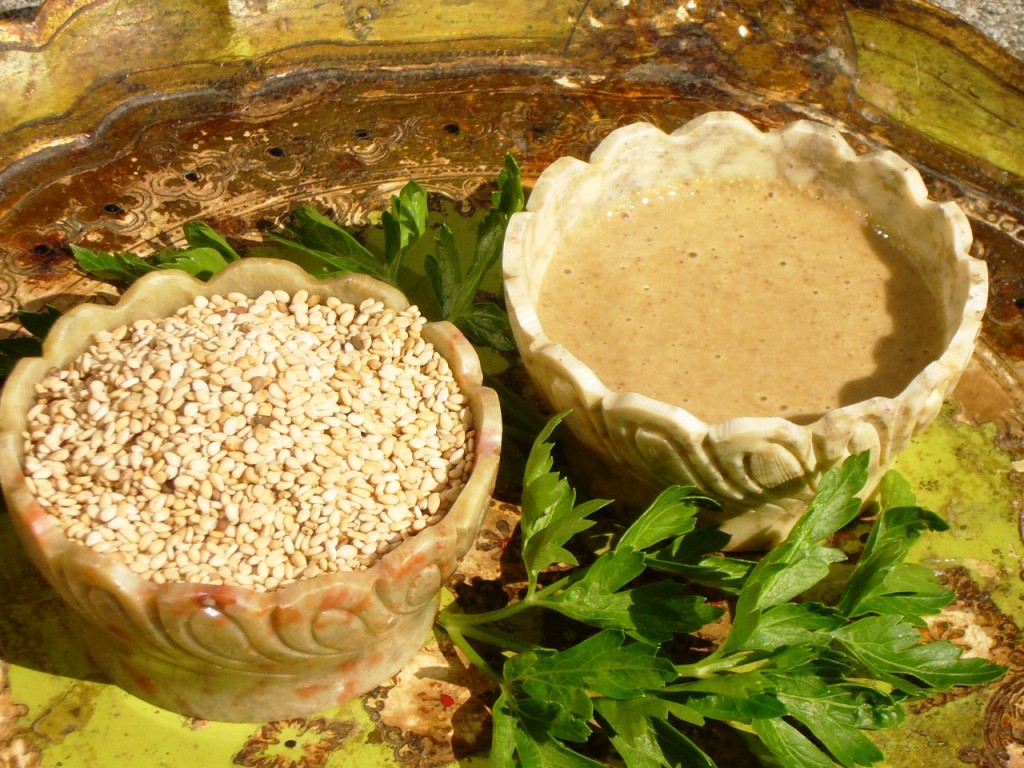 You might be asking yourself why you would make your own tahini when you can buy a can of it in most grocery stores. I'll tell you why. Canned tahini is not even in the same ball park compared to what you get when you make it fresh. Think about it – tahini only keeps about a week in the refrigerator. It's not enhanced by preservation.
Tahini is decadently rich and creamy – and yet it is dense with nutrients. There are 89 calories in one tbsp of tahini. From 100 grams (about 3.5 ounces or a little less than 8 tbsp) of tahini you get:
Obviously, you wouldn't eat eight tablespoons in one sitting but people don't usually eat tahini by itself. It is commonly used as an ingredient in a wide variety of dishes.
Here are some of the things I will make with my tahini: hummus, tahini marinated grilled chicken thighs, lemon tahini salad dressing, spicy szechuan style cold noodle salad, baba ghanouj, falafel sandwiches, brown rice with tahini sauce and avocado…
Did you know that sesame seeds come from an annual that produces seed pods? It's funny to realize that although I use sesame seeds regularly, I never thought about what sort of plant they came from.
Homemade Tahini
Yield: ~2 cups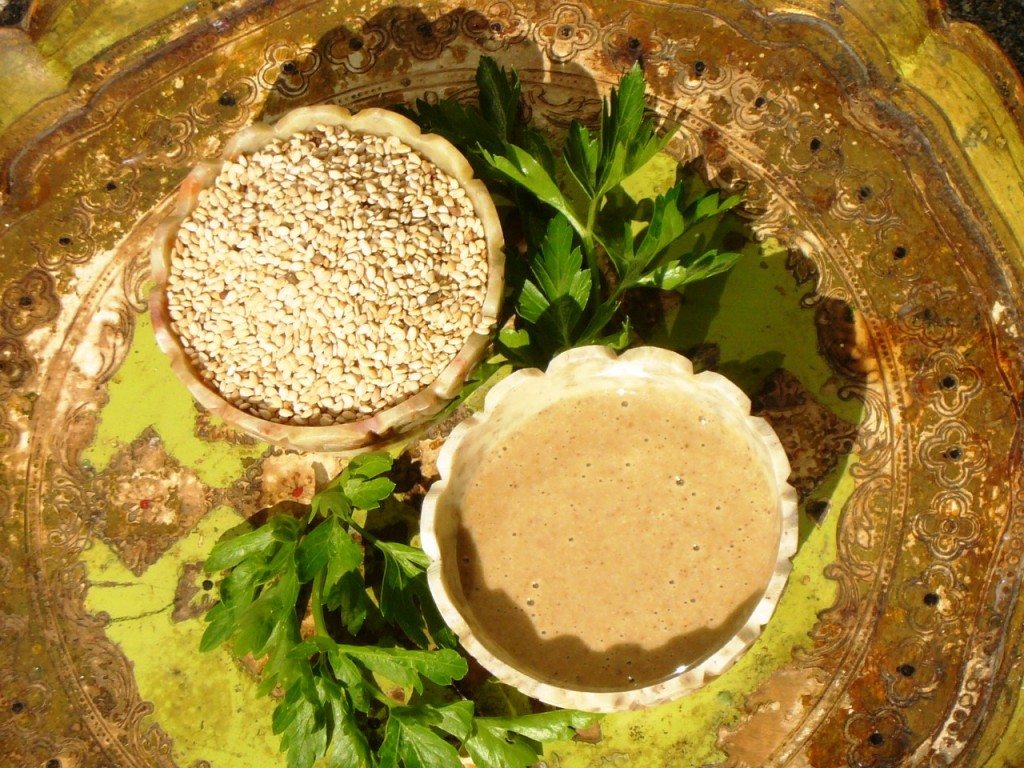 Tahini Facts
You can make it with raw or toasted seeds. This recipe uses toasted and so is higher in fat and slightly lower in calcium than a batch made with raw seeds. Raw seeds must be soaked before making the tahini.
Puree the heck out of it in the food processor. Otherwise the texture will remind you how much fiber there is in tahini.
Some recipes call for roasting the seeds in the oven. I suggest toasting them in small batches in a pan on the stove top, simply because I've had better results. What I mean is that I burn them when I use the oven. Once they are burnt all you can do is throw them out.
When the seeds are close to done they will give off a delicate smoke and scent. That (along with the golden brown color) will let you know it's time to take them off the heat.
Ingredients
2 cups toasted sesame seeds
1/2 cup of extra virgin olive oil
sea salt to taste
Procedure
Add toasted seeds to processor bowl and run for about 2-3 minutes (until the seeds are fairly broken down to a sand-like consistency).
Leave the processor on and drizzle in the extra virgin olive oil, let it grind away until the tahini has the smooth consistency that you want. If it's too dry slowly add a teaspoon or more of oil until it has the right texture.
Turn off the processor and add some salt. Pulse a few times and taste. Add salt as needed.
Keeps about 1 week in the refrigerator. Bring to room temperature before using for best results.