Fire Roasted Hatch Green Chiles from New Mexico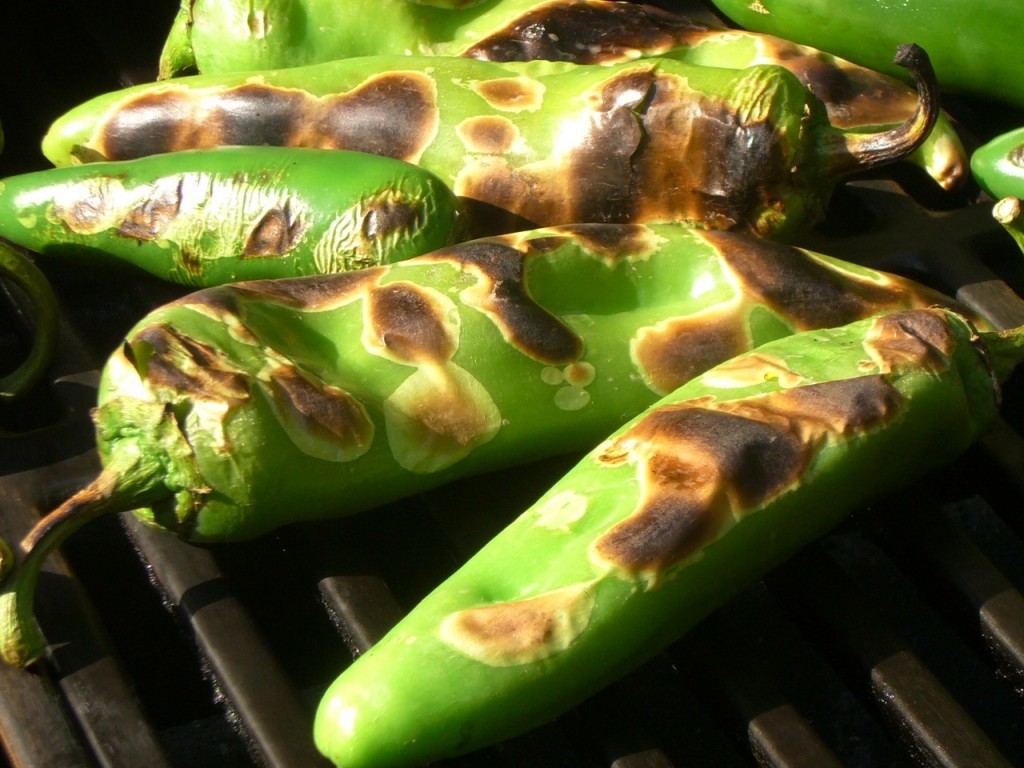 Hatch, New Mexico is a small village in SE New Mexico and is known as "the chile capital of the world". The Hatch Valley (where Hatch chiles are grown) runs north and south along the Rio Grande. The combination of the weather and the qualities of the soil in the region are what give Hatch chiles their famous flavor. Each year as the summer winds down the harvest of the Hatch chiles is celebrated during the Hatch Chile Fest. Chiles, both red and green, are a driving force in the economy of the Hatch Valley and are distributed throughout the United States.
The Hatch green chiles you'll find here in Seattle this time of year are fairly mild and are used more for the flavor rather than the heat.
The best way to prepare them for whatever you are going to do with them is to roast them. When it's later in the fall it's fun to roast them using the broiler indoors because it fills the house with the piquant, smoky smell of the peppers. They can also be roasted on your outdoor grill if the weather is too hot.
The following method will work for roasting any kind of peppers; hot, mild or sweet. Someday I will learn how to can them after they are roasted and store them away for the winter.
How to Roast Chiles
Once you have the amount of chiles you want to roast, simply rinse them, fire up the broiler or the grill and put the chiles on.
When you start to smell them, that's probably the time to turn them over. Let them roast until the skin is blackened and charred.
Immediately place the chiles in a ziploc bag and seal, or in a bowl covered with plastic wrap to seal it. Let the chiles steam until they are cool enough to handle or just leave them for a few hours on the counter until you are ready to prep.
Use your fingers to remove the skin. It will easily rub off. Discard the skin. I recommend using vinyl gloves when preparing the roasted chiles, even the mild ones.
Remove the seeds and ribs from the chile and discard them. If you like more heat (maybe for salsa) you can leave them both in, or just the ribs. The ribs are the white stringy membranes that hold the seeds in place and run down the length of the chile.
Whatever you do, DO NOT RINSE the chiles. Rinsing will remove the flavorful chile oil.
You can use your chiles immediately or store them in the refrigerator for 3-4 days before they start to break down.