Winter Greens and Chicken Soup
Winter Greens and Chicken Soup
Makes 4 Servings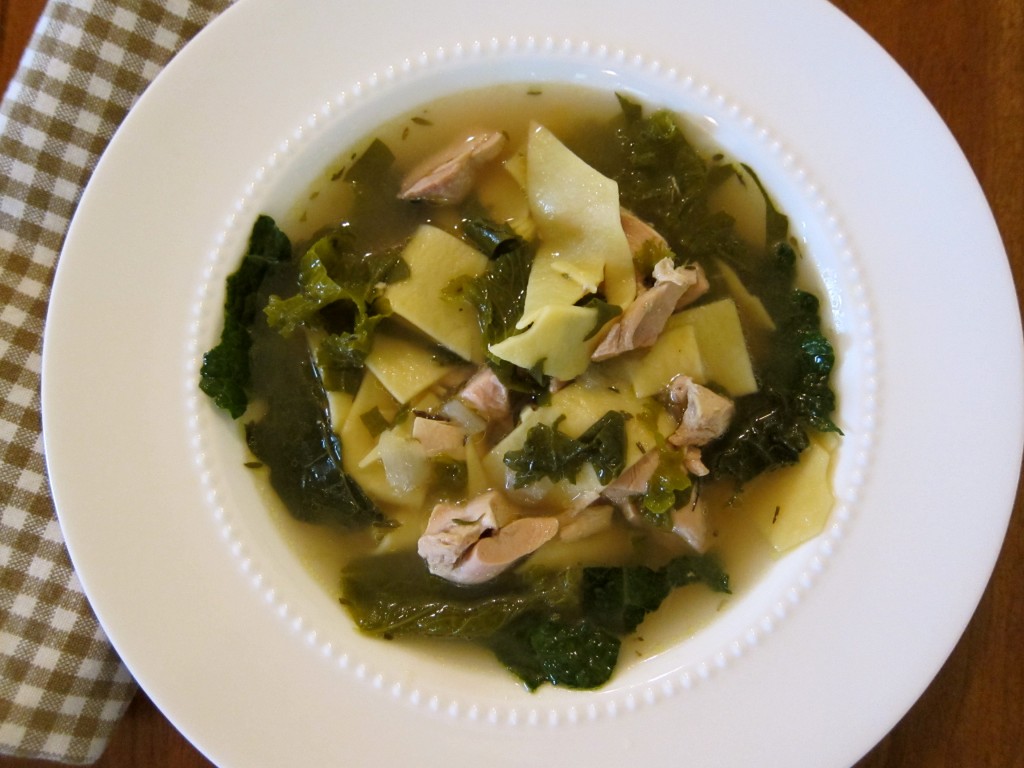 This soup is one of those recipes that just came together and turned out to be delicious.
Looking in the freezer for a loaf of bread, I discovered a package of 6 skinless chicken thighs that needed to be used, so to save time, I quickly poached them for about 15 minutes in a large skillet, with thyme, onion, basil and a little salt. I poured it all into a zip lock bag, put it in the refrigerator and left for the day.
That evening, I picked out some winter greens including a renegade purple kale plant I found in the garden, and decided to use some of the chicken for pasta with Puttanesca Sauce. I planned to save the stock and remaining chicken thighs for another day.
I noticed that the poaching stock was jelled which meant that the stock contained a fair amount of protein. Good sign. When I tasted it I was stunned at its rich, intense flavor, better than any I had made in a long time. Was that because the chicken was poached in shallow water instead of boiled in a deep pot? Mystery.
I used half the chicken for the pasta and put the rest back in the bag with the stock and refrigerated it until the next day when I made this soup.
Ingredients
4 skinless chicken thighs, poached with yellow onion, 1 tsp. dried thyme, 1 tsp. dried basil
3 cups poaching liquid (remove and chop onions, then return them to the stock)
4 cups chicken stock, homemade or commercial
3 cups cleaned, torn winter greens of at least 2 varieties (curly kale, purple kale, mustard
greens, washed
3+ oz. dried wide (1/2″) fettucini or another shape of your choice
1 1/2-2 tbs. white wine vinegar
2 tbs. extra virgin Italian olive oil
Salt and pepper to taste
1 cup coarsely grated aged Parmesan or Pecorino cheese, room temperature
Procedure
Slice or cut the chicken into bite size strips. Add to the stock. Set aside.
Bring the 2nd stock to a low boil and add the greens. Cook until they are soft enough to eat. Using a slotted spoon, transfer the greens to the first stock.
Return the 2nd stock to a steady boil and add the pasta. Cook until done, 11-12 minutes.
Combine the soup stock and pasta stock in a pot. Add olive oil, heat to a simmer and taste. Add the vinegar and a little salt and pepper. Taste. Add more salt if necessary, keeping in mind that the cheese will add more salt taste.
To Serve: Ladle soup into 4 warmed soup bowls. Divide cheese over each serving and serve immediately.