Radish, Cucumber and Shallot Salad
The easiest way to have fresh vegetables with every dinner is to include a salad. I love salad. You will love salad too if you do the prep work yourself and make your own salad dressing. No matter what the expiration date says on the prepared veggies from the grocery store, I can tell you they are already decaying and they taste that way too.
All this work pays off when you hit the right flavor combination of fresh ingredients and a dressing that enhances those ingredients instead of covering them up. Like me, you might find that you want to eat the same salad every night for two weeks. Or longer. This is what my family has to put up with. I call it a salad binge.
English cucumber is a key ingredient in this salad and it must be firm. Substituting with a garden cucumber will not give you the same great results. I think the difference lies in the seeds, as well as the amount of moisture. English cucumbers are drier and the seeds are easy to eat.
You could adjust this recipe by using a different type of vinegar such as apple cider vinegar or rice vinegar. I vary the vinegar according to whatever else I'm serving. The version below is the original.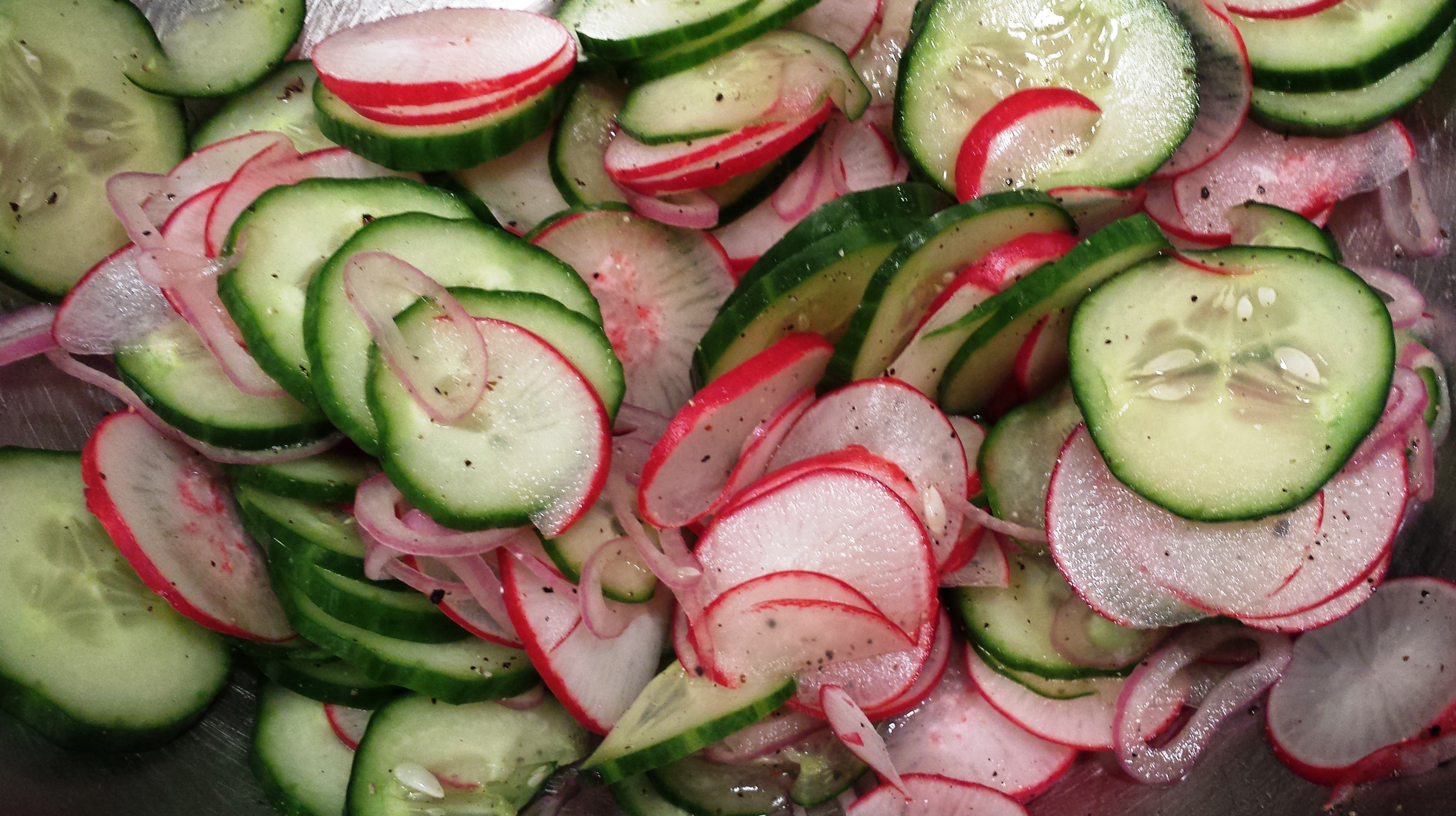 Radish, Cucumber and Shallot Salad
Serves 4 as a side salad
Ingredients
1 English cucumber
1 bunch of radishes
1 small to medium shallot
2 tbsp white wine vinegar
Salt and pepper to taste
Procedure
Wash the cucumber and radishes thoroughly
Slice the cucumber and the radishes into thin round slices and place in the salad bowl
Peel the shallot and slice it into thin slices. Add them to the bowl
Sprinkle on the white wine vinegar
Add salt and pepper to taste
Let it sit for at least 10 minutes before serving. Don't let it sit more than 1/2 hour. It will still taste great but the salad will turn pink from the radish skin.