Inside Out Carrot Cake Cookies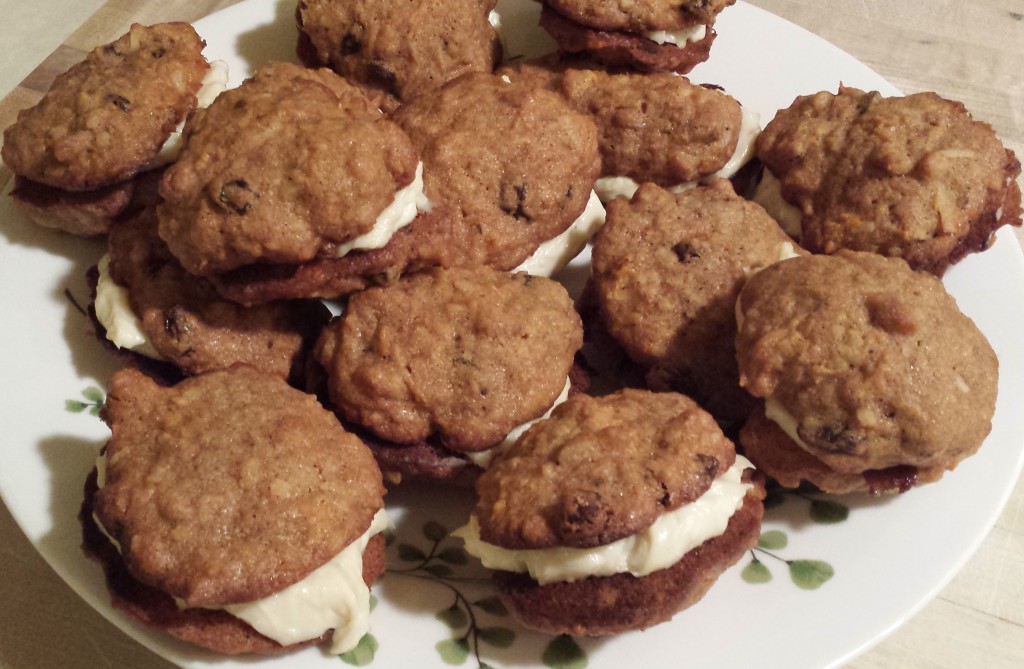 This recipe is a mashup of several Inside Out Carrot Cake Cookie recipes I've tried. They have a great fall flavor and would make a nice addition to the Thanksgiving spread.
Inside Out Carrot Cake Cookies
Yield: About 14 cookies
Dry Ingredients
1 1/8 cups all-purpose flour
1 teaspoon cinnamon
1 teaspoon ground ginger
1 pinch of ground cloves
1/3 teaspoon of ground nutmeg
1/2 teaspoon baking soda
1/2 teaspoon salt
Wet Ingredients
1/2 cup of butter (1 stick), room temperature
1/3 cup plus 2 tablespoons packed light brown sugar
1/3 cup plus 2 tablespoons granulated sugar
1 large egg
1 teaspoon vanilla extract
Other Ingredients
1 cup finely grated carrots (1 1/2-2 medium carrots)
1 cup chopped walnuts
1/4 cup sweetened, dried coconut
1/2 cup raisins
Frosting
8 ounces cream cheese or neufchatel
1/4 cup honey or maple syrup
Procedure
Preheat oven to 375°F and line two baking sheets with parchment.
In a medium bowl, combine dry ingredients and mix together.
In a large bowl, use a hand mixer on medium speed to blend the butter and sugar until fluffy. Add the egg and vanilla and beat for another minute or so.
Gradually add the dry ingredients to the wet while continuing to mix on medium speed until all ingredients are incorporated.
Fold in the carrots, coconut, walnuts and raisins.
Drop batter (about 1 1/2 tablespoons per cookie) onto baking sheets 1-2 inches apart.
Bake 12-14 minutes until slightly browned.
Remove from oven and cool on a rack.
While cookies are baking whip together the cream cheese and honey.
When cookies are completely cooled lay out one half of the cookies and frost. It's easier to equally distribute the frosting if you leave the cookies open until you've used all the frosting.