Bam Bam Kam Club Sandwich
Also known as the "Bam Bam Kammy Sammy with 70s sauce", The Bam Bam Kam Club sandwich was invented on Friday October 9th, 2015 to celebrate the return of Kam Chancellor to the Seattle Seahawks lineup. Or so the story goes…
For the best tasting sandwich let your ingredients come to room temperature before assembling.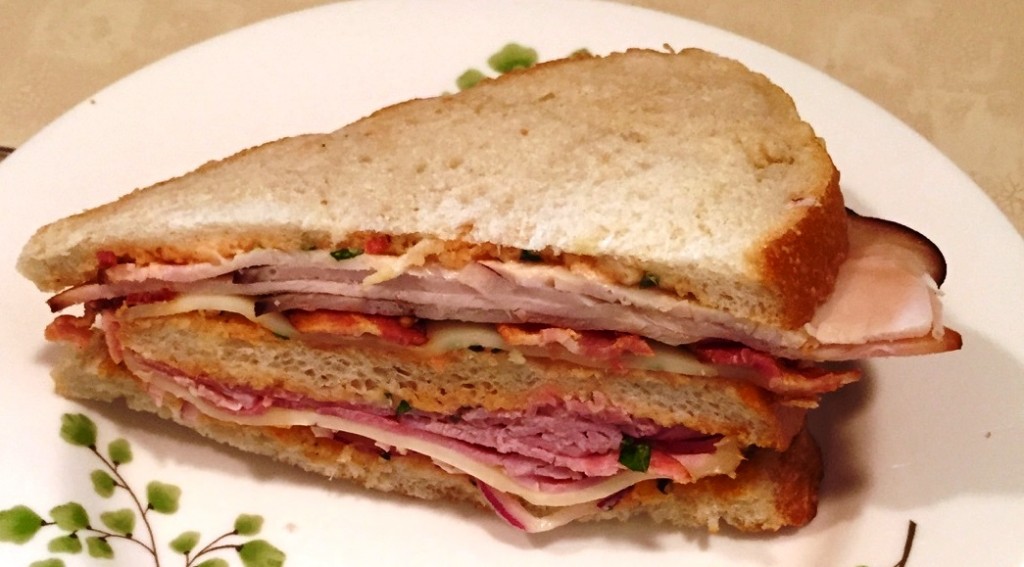 Bam Bam Kam Club Sandwich
Makes 4 Double Deckers
Ingredients
12 slices of sourdough bread
6 tbsp Seventies Sauce
1/4 red onion sliced thin
4 slices Swiss cheese
1/2 lb smoked sliced turkey
1/2 lb sliced ham
8 slices of crispy bacon
Procedure
Turn on the broiler
Lightly toast the bread
Spread a thin layer of Seventies Sauce on each slice of bread. Put the sauce on both sides of the middle bread slice.
Assemble ingredients in the following order:

Bread
1/4 of the sliced onion
1 slice cheese
1/4 of the ham
Bread
1/4 of the turkey
2 slices Bacon
Bread

Place the sandwiches on a baking sheet and put under the broiler. Check after 2 minutes. You just want to warm them and gently toast the bread.
Slice and serve.
If you want to class it up you can cut the sandwich into quarters. Get some fancy toothpicks with Seahawks colors and use them to hold each section together. This is the sort of thing that impresses football fans.